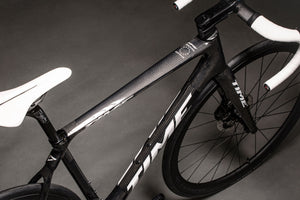 THE ULTIMATE TIME ROADBIKE
ALPE D'HUEZ DISC
THE ULTIMATE COMPOSITE BLEND
We took the Vectran®–enhanced structure of the ADH 01 and increased the amount of light and stiff Toray M40J and added Dyneema®, the World's Strongest Fiber® to create our most advanced BCS hybrid blend ever.
EXCLUSIVE TECHNOLOGIES
ULTRA strength
Bio-Based Dyneema® is Lighter, Stronger and Smarter. Because we weave our own braided carbon structures (BCS) we have been able to add a hybrid Carbon/Bio-Based Dyneema® layer that increases strength in the structure without compromising stiffness or weight. 
Dyneema® fiber is 15x stronger than steel at the same weight, with a tensile strength up to 43 cN/dtex. Dyneema® fiber is so light that it floats on water and furthermore has a very high modulus (resistance against deformation).
DYNEEMA® TECH
Sublime ride feel
Braided Carbon Structure is the weaving of dry fibers into complex bi-directional 'socks.' These tubes of fiber are easy to tune with different materials – TIME currently choses from 16 filaments to perfectly tailor our layups. This process also allows something that is unheard of in the cycling world; continuous fibers that run the full length of a structure. With standard prepreg layup, fibers end where the sheets do, creating inherent weaknesses.
BCS is the way we've always made our products and we're the one of the only bike manufacturers doing it.
BCS TECH
UNMATCHED QUALITY
Resin Transfer Moulding is the best way to minimize defects in the frame structure. By laying up dry fibers and then injecting resin at high pressure between rigid external AND internal molds, air pockets and voids are eliminated. Unlike the industry-standard prepreg layup and air bag moulding, RTM quality is uniform and consistent yielding a beautiful near-finished product. While the RTM process is ubiquitous in aerospace and high-end automotive applications, it's almost unheard of in cycling and your TIME is unique.
RTM TECH
FEATURES
DEDA DCR
 The included DEDA S-DCR headset is compatible with standard stems and handlebars for semi-integrated setup or add a full DCR headset cover/stem/bar available from DEDA to finish your TIME with fully-integrated cables and brake hoses.
1X Derailleur cover
With the included TIME Derailleur Mount Cover, your 1X setup will look as slick and finished as the rest of your bike. Full compatibility with single and double–ring drivetrains doesn't mean making a visual compromise.
FORGED CARBON
With 20x the fatigue life of steel or alloy, we use forged carbon where others spec heavier aluminum parts. A 60% fiber content allows drilling and threading without cracking, processes that are much more challenging with prepreg construction.
REINFORCED STEERER
Fork steerer tubes must withstand a great deal of stress from riding and clamping forces imparted by the stem. TIME have always reinforced steerers with Kevlar or Vectran fibers to dramatically reduce the risk of total failure and separation in this critical area.
WHAT'S INCLUDED?
• DEDA S DCR Headset • Front and Rear Thru Axles • Alloy Bottle Cage Bolts • Integrated Seatpost Clamp • Single Cover and Drivetrain Conversion Kit
FRAME SPECIFICATIONS
GEOMETRY
ALPE D'HUEZ DISC
SUSTAINABILITY
TIME didn't necessarily start with the idea of making more efficient use of materials, but in fact many of our processes are less wasteful than industry-standard carbon production. It's not a secret that working with carbon is not a green practice, but this doesn't mean there's no value in using cleaner methods – reducing and reusing whenever possible and meeting or exceeding strict EU environmental impact guidelines.